IAN EMBERSON (1936-2013)
Tributes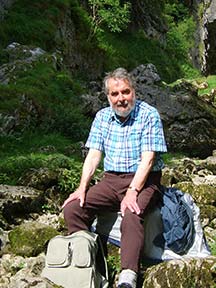 From Isobel Stirk
Photo: Ian at Troller's Gill
It was with a feeling of profound sadness that I learnt of the unexpected death of Ian.
He was a life member of the Brontë Society -a good friend of mine and many others within the Society - and his cheerful and friendly presence will be sorely missed.
Perhaps it was inevitable that Ian should write such wonderful poetry as he was christened by the poet Andrew Young and he had numerous articles printed in Brontë Society Gazette and Brontë Studies. His e-book, Seaport at Sunrise, with its background of Cyprus during his National Service there, in the 1950s, was published recently. He was an impressive artist, and his postcards and the illustrations of his own books and those of other authors show his wonderful talent. Before retirement he was Music Librarian at Huddersfield Library and he had a great love of music and beautiful settings have been composed for his poetry. His knowledge of the Brontë was vast and his book Pilgrims from Loneliness was an exploration and interpretation of Charlotte Bronte's Jane Eyre and Villette - drawn from books which had an early influence on hermind.  He and his wife Catherine discovered written recollections of the Brontës by George Sowden, younger brother of Sutcliffe Sowden who had officiated at Charlotte's wedding. They went on to re-publish them.
A celebration and thanksgiving for Ian's life was held on 18th November in St Mary's Church, Todmorden. The packed church showed with what respect and affection he was held. Eulogies and poetry readings were given by his close friends Dr Ken Smith and Simon Fletcher - poets and writers. Members of the Todmorden Choral Society sang motets by Anton Bruckner - one of Ian's favourite composers. It is very fitting for Ian, a great lover of nature, the countryside and the outdoors, that his final resting place is in Cross Stone graveyard- high on the hills above the Todmorden valley. The four Brontë children were very familiar with Cross Stone as, in September 1829, they went there with Aunt Branwell to stay with their great-aunt's widower- the Reverend John Fennell.  It was from the vicarage there that Charlotte wrote her first ever letter, a letter to her father back home in Haworth. In July 2005 Ian co-authored, with Catherine, an article Turns in the circle of friendship: 'Uncle Fennell', 1762-1841, which appeared in Brontë Studies.
 
After the internment an uplifting gathering was held where Ian was well known and where he had had exhibitions of his paintings- the Bear Café. Here people brought their memories of him together with poetry and their own reminiscences and Daniel Bath, for whom Ian had written the libretto for his opera The Forest, sang a very moving song- accompanying himself on the guitar.
Ian Emberson was a kind, generous and humble man with a unique creative spirit. We who knew him - and are so proud to call him friend- are much poorer for his death but certainly richer for having known him."    
John Bartlett, composer, writes
"I became acquainted with Ian many years ago. I think it was the singer Nigel Cliffe who knew Ian and made the introduction. Nigel had performed one of my early poetry settings for voice and piano and knew that I wanted to set more poetry to music. Ian was happy to allow me to experiment with setting any of his poetry and the first setting I made was Peewit in 1988. I loved the soaring nature of the poem. The words seemed to be demanding a complementary flowing musical accompaniment. It is though challenging for both pianist and singer and I remember when Ian asked for a recording of it I had to practise the piano part extensively. Both he and I were pleased with the result, though his favourite setting of mine was not to come until much later.
This was Sky in 1995. It quickly became a firm favourite with singers. The soprano Clare Loseley made a recording of it for Ian, and Ian thought her voice was just right for the piece.
It was not until 2005 that I ventured to set two more of Ian's poems. Reflections (from Swallows Return) I set for flute, voice and piano and Madonna of the Rocks, a reflection on the painting in the National Gallery.  I turned this latter into a Christmas carol for female choir. Ian was not so sure about this, saying that he never thought of it as a carol. However, when I sent him a recording from the first performance he was more than happy. Reflections was also recorded by Clare Loseley. It is gentle music for gentle poetry and I loved the story of how Ian composed the poem on one of his regular ambles on the moors above his home. The opening line of the poet reaching down and dipping his finger in the sky (reflected in a pool of water) was something so natural and mundane that I could not resist it musically.
For the next five years my composing interest diverted to other areas: larger scale chamber and symphonic works. Ian would continue to send me new material and we would frequently discuss the arts. I had noticed that some of Ian's poetry was bordering on the epic, and I thought I would like the challenge of attempting something larger. Ian had sent me a copy of his Messages from Distant Shores. I loved the title and the enigmatic stories within the poems, such that I decided to try and set the whole suite of poems. It was to be quite a departure from my normal tonal range and instrumentation. I used a variety of instruments to accompany a soprano and tenor voice, trying to match the mood of the poetry with the right instrument. Thus, Whirlpool, for alto saxophone, clarinet and tenor voice demanded a fluidity and virtuosity of music to match the excitement of the words. I gave each section of the poetry a title. Ian was not sure titles would be appropriate, but understood that I needed to differentiate the pieces for logistical and performance purposes. Setting the thirteen sections as a whole seemed to work well musically although, as Ian explained, the sections were in fact quite individual, individual messages in fact. I finished the work in 2010.
An opportunity arose to give the first performance of MDS, as it then became known, in conjunction with a fund-raising event for a new village hall in Ripley, Surrey. Gathering the musicians and arranging rehearsals were particularly challenging activities, but a good crowd attended the performance on the evening of 22nd. May, 2010, and Ian was able to be present and was very pleased with the result.
Wishing to employ Ian's artistic talent as well as his writing talent, I asked him whether he would design covers for some of my music. He took delight in employing a special pen used for writing music staves and produced a cover for my setting of Keats' Ode to Autumn and for his own poem, Peewit. These now appear in the published versions.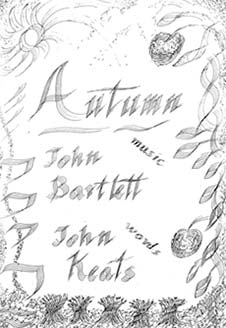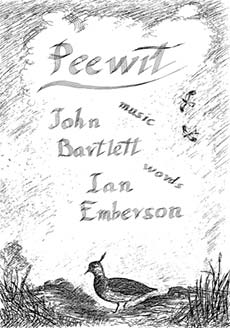 There is still much of Ian's poetry that has the potential to inspire me to make further musical settings, but I shall miss our chats on music and the arts. It has been a privilege to share in Ian's world through his written and graphic works, his love of Yorkshire and Brontë history and his observations of people and places."
Pauline Kirk writes
I vividly remember first meeting Ian, though it was thirty years ago. I had been invited to a Pennine Poets workshop at Mabel Ferrett's home in Heckmondwike. I can even recall the weather - wet and cold and so dark I lost my way. "Look for the bus depot," Mabel had advised. Unfortunately I found the wrong one, in Cleckheaton. I was late, and horribly nervous.  To my surprise I was made welcome, and my poem was treated kindly, though not flattered. Ian was one of the poets sitting in Mabel's front room, impressively bearded and thoughtful, my childhood image of a famous poet but friendlier.
He had joined the group a little earlier than me. Years later he wrote: "How vividly I remember that chill evening in the February of 1978 - I being full of trepidation as to how my work would measure up at that august gathering. Twenty years later I can still recollect the exact position everybody sat in round the fire in Mabel's living room. That evening led to some very important friendships."  I am grateful that one such friendship was between Ian and myself.
From the beginning I was exhilarated by the Pennine Poets meetings, spurred on to produce at least one new poem a month which I dared discuss with writers more experienced than myself. And what discussion! Not just poetry, but literature generally, art, music, mythology, politics, science, even medicine might feature in an average evening. My narrow, academic education was broadened if I just sat and listened. Ian was always one of the leading voices in such discussions, making his points firmly but fairly. After Brian Merrikin Hill died, he chaired our meetings, keeping them to time, intervening if discussions grew too heated and ensuring that everyone had their share of feed-back. His presence always increased my enjoyment.
As a group, and as individuals, the Pennine Poets gave many public readings and organized literary events. Both Ian and I took an active part. His links with other Yorkshire writers and artists, local orchestras and folk singers were invaluable, enabling us to include music or exhibitions and greatly increase our audiences. He and I found we worked well together at such events. We began to read each other's poems to give a different 'voice'. Sometimes we shared a longer poem as a duet.
For many years I was also heavily involved with the Leeds based Aireings Group of Writers and Artists, and Ian generously supported their festivals too, often helping me on the bookstall, as well as agreeing to be a featured reader.
From appearing with such groups, we moved on to doing joint readings as individuals, accepting bookings at galleries and libraries on both sides of the Pennines. Both of us enjoyed performing, even if on one memorable occasion it was to two people and a dog (and as Ian said, "even the dog read.")  We would phone each other regularly to discuss new opportunities, or to plan a programme. Ian often designed our posters, his beautiful little drawings adding to our publicity.
Our relationship took on another dimension as I became involved in publishing, first with Pennine Poets Publications, then joining Mabel Ferrett as a partner in Fighting Cock Press. Together with other artists in the group Ian illustrated several anthologies. I grew to respect his artistic talent and desire for perfection – even when it conflicted with publishers' deadlines. In 1998 Mabel and I brought out a collection of his poems and illustrations, 'Natural Light' which sold out. In 2005 we brought out a second, updated edition. Typically, ever the perfectionist, Ian redrew some of the illustrations.
On a personal level, Ian's support and encouragement extended outside Pennine Poets and Aireings. After we both moved and attending regular workshops became difficult, our friendship (which now included Catherine, Ian's wife) became more, rather than less important.  If I was organizing a book launch or a reading Ian could not attend, he would send one of his own art cards, wishing us luck. He never forgot important family issues or to send a card from holiday. We emailed or rang each other regularly. "Have you time for a chat?" Ian's calls would begin. Then he would ask me what I was working on and express interest in my successes – and give advice on anything he thought needed improvement. His criticism was sometimes sharp but always worth considering. Afterwards we would discuss his latest project or general publishing or printing issues. I greatly valued our 'little chats' and always put the phone down vowing to get more work done.
His distinctive mellow voice still echoes in my memory. When the phone rings now I find myself wondering for a second or two if it is Ian, and realizing how much I miss him.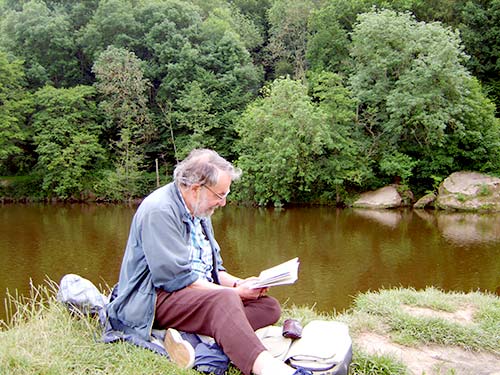 reading Wordsworth at Symonds Yat
Beth Cunningham writes
I don't remember the first time I met Ian.  Somehow, it's as if I had always known him. 
Ian was one of those rare and special people with whom one can take up where one left off, no matter how long the intervals between seeing them.  We were brought together by our mutual interest in the Brontës and membership of the Brontë Society. 
When Ian and Catherine, his soul-mate and help-mate, met through the society, I don't think I was the only member who felt pride and pleasure that two special people had been brought together by a passion we all shared.  Our very own Cathy and Heathcliff, but without the tempestuous parts!  A closer comparison may be that Catherine, like William Blake's wife, was a supportive and down-to-earth partner who kept her creative man grounded.  As a man gifted with both artistic and writing skills, there was something a little William Blakish about Ian.
Ian was a relaxing companion but fun too.  He had a boyish enthusiasm and curiosity.  On a trip to Brussels with the Brontë Society he was the only other member willing to accompany me on a night-time exploration of one of the dodgier areas of the city where I had heard we could get a good meal in a cheap but characterful fish restaurant.   I especially valued Ian's company at that time because I had come on the trip with some reluctance.  Back home, my husband Garrod had incurable cancer.  He still felt well at that stage and – knowing my Brontë interest would sustain me after his death – he urged me to go.
Ian's work ethic was an inspiration to me with my own writing efforts.  I admired him for taking early retirement and starting anew.  He never seemed to court success for the sake of it.  He simply worked cheerfully and methodically, day-by-day.  And he was generous in his attitude towards other creative people and was interested in their work.
One particularly happy memory of Ian remains.  On a sunny summer's day, on a Brontë Walk which Ian and Catherine had organised – stopping to sit on the heather for poetry readings – near Cross Stone, Todmorden.  Although I was brought up in Yorkshire, years in London had turned me into a townie and when I admired the pretty blue flowers on our route Ian pointed out to me without reproach that they were extremely common forget-me-nots!  A fitting way to remember him.
K E Smith writes in Pennine Platform No 75 2014
THE POETRY OF IAN M. EMBERSON
Though the published poetry of Ian M. Emberson, who has died at the age of 77, is that of his mid- and later life, its keynote is the freshness of response and fluidity which we associate with the élan of youth.  Fluency of thought-movement and of rhythm was his inestimable gift from his first volume onwards, where he shows the good influence of Mabel Ferrett's poetic craft.  One can see him build on her dramatic sense, precise imagery and ability to shape a poem as an open question. This, coupled with the commitment to the poet's vocation which he learned from Brian Merrikin Hill, would help carry him through three decades of his own poetic creativity.
His first two volumes, Doodles in the Margin of My Life and Swallows Return * show his keen naturalist's sensibility responding to the Pennine scenery and abundant wild-life of Thurstonland.  Peewit  ('Bird of the fallow fields/and the hillside's steeping') illustrates the unsentimentally precise celebration which could follow his encounters: and beyond naturalism there is the sense of mystery which surfaces in a poem such as Wind ('I am myself,/and the universe itself, /and the wind - /is the wind').  Early on we see also that range of human interests which will increasingly characterize his poetry, ranging from the touching 'ordinariness' of  a girl with headphones on a train to the poignancy of a contrasting young woman in Beggar Girl in  St Stephen's Green, Dublin. 
The early Todmorden years are marked in different ways by an intensification of his humanistic emphasis. His poetry became deeply compassionate, as most powerfully shown in his verse-novel Pirouette of Earth. This long work, set in the year of his birth 1936 and touching on both the Depression and the Spanish Civil War in its narratives of human struggle, is remarkably well-sustained and contains truly memorable moments. Amongst his shorter poems of this period, those collected in Mourning Ring stand out for their ability to link the Brontës with the contemporary life embodied in a 'bright sari in a darkened street' and the collection Natural Light of 1998 combined the lyricism of his early work with an enhanced awareness of 'silent suffering'.
Occasionally, later works such as Messages from Distant Shores and the long narrative poem The  Zig Zag Path, could lack the imaged consistency and instinctive rhythmic pulse of his middle period, though both works  contain fine sequences. But his 'late period' found its fulfilled expression in two luminous, painting-inspired sequences, Pictures from an Unknown Gallery and the Chagall-inspired Jerusalem Windows  (arguably the work in which he most richly loaded every rift of his poetry with ore). Beyond the fashions of the poetry world he remains one of that small minority of contemporaries immediately attractive to poetry-loving 'common readers' - who in future  will doubtless continue to delight in his distinctive mix of  imagistic vividness and  subtle melodies.
*Though several of Ian's volumes are 'illuminated books', any interpretation of their art-work attempted in this short piece would be too brief to be meaningful. A fuller survey might also discuss the attractiveness of his poetry to musicians for song-setting."
Reproduced by kind permission of the editor.
Bob Duckett writes in Brontë Society Gazette April 2014
"Ian Emberson was known to many members of the Brontë Society.  He regularly attended its meetings and conferences, often as a speaker.  He was also a regular contributor to Brontë Studies and the Brontë Society Gazette, where his articles were always welcomed by their editors, for Ian was deeply versed in the Brontë novels, widely read, always had something new to say, and was an excellent communicator.  In addition to his Brontë writings, Ian was a poet, and an artist.  He was a regular member of the Pennine Poets, while rarely would an Ian-led meeting go by without people queuing to buy his postcards.  Ian's artistic empathies combined with his wide cultural interests and friendly nature made him a person we enjoyed listening to.
Ian was born in Hove in the south of England, but lived in Yorkshire for over forty years.  After National Service spent in the Royal Signals in Cyprus 1955-7, Ian earned his living in both horticulture and librarianship, latterly as Music Librarian at Huddersfield Central Library.  In 1986 he took early retirement to concentrate on painting and writing.  His publications include six books of poetry and two of prose poems, as well as numerous articles.  In 1996 Bradford Playhouse produced his one-actor play Cockerel Crowing Dawn, based on the life of the Russian composer Mussorgsky and he wrote the libretto for Daniel Bath's opera The Forest.  Four other composers have set his poetry to music.
In 2006 Ian published Yorkshire Lives and Landscapes, an autobiographical accounts of his Yorkshire years.  This included an account of his meeting his future wife, Catherine, at a  event.  Research by the couple led to the discovery of George Sowden's Recollections of the Brontës which they re-published in 2005.  In the same year the Brontë Society published Ian's book Pilgrims from Loneliness:An Interpretation of Charlotte Brontë's Jane Eyre and Villette.  Rarely did a year pass without an item in Brontë Studies by Ian, and there was an article at the refereeing stage when he sadly passed away.
The funeral service was held at Todmorden where Ian lived, and included readings from his poems and some delightful choral singing.  The church was packed.  Among the tributes paid were one by fellow Pennine Poet and UK editor of  Brontë Studies, Ken Smith.
Ian was a lovely person: he always met you with a cherry greeting, he was always positive, always interesting, and left you feeling re-invigorated.   He will be greatly missed.  Glad to have know you, Ian.  Thanks for everything!
Our deepest sympathy to his widow, Catherine."
Reproduced by kind permission of the editor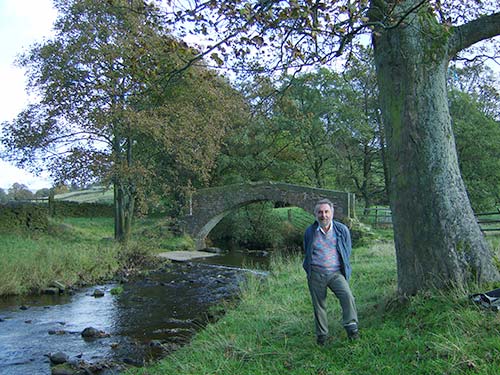 walking in Haworth on Catherine's birthday treat
Shelley Burgoyne writes
To Ian, November 2014
Walking away from Haworth towards Top Withins this week, I thought of you Ian. I thought of your love of walking and wild places, your love of the Brontës and all the contributions you made.
You had a wonderful determination to make your imagination visible through words and pictures. You had such conviction. I liked and admired that about you. 
Ian, I will always remember your encouragement to others. You loved to be generous with your artworks and to make time to talk and share ideas. 
Rene Magritte said  'Art evokes the mystery without which the world would not exist.'
Ian, you were inspired and your ideas bubbled with imagination and creativity. There was always your sense of searching.
Our connection… You were 70 when I was 50 in 2006. We discovered we shared a common interest in Cyprus where you were stationed in the army in 1956 when I was born there.  You wrote beautiful letters home every day from Cyprus. These letters to your parents described the weather and day to day events. One of your letters home was written on 11th August 1956, the day that I was born in Cyprus.  I found it poignant to be 'accidentally' a part of your writing and to have the day and place of my birth so thoughtfully described.   Our conversations about that day and time triggered a new series of art work for both of us.  Ian you wrote a poem, an essay and a novel and you inspired me to produce a new series of work based on memory and birth. 
Your imagination always fuelled your artwork, writing, painting and textiles. There was an abundance of lyrical imagery full of colour and life. Your images were inspired and confident and often showed a sense of humour and drama.  You always paid great attention to detail in your creative work.   
Ian, you were an inspiration to so many people and are greatly missed.        
   
Cyprus - August 11th 1956
    - for Shelley Burgoyne
The day you were born
the forest fires were burning,
and after dusk
we could see them for many miles;
no green green land
was here for you to enter
- the plains were scorched with heat
- the skies with war.
And yet it seems
each birth is still a token
- a tiny flag of hope
waved at despair;
gestation runs its course
and then fruition :
the muscles strain – pain stabs
- child slips from womb.
Maybe the bayonets
were fixed and ready,
maybe the rifles
were loaded – poised to fire;
but surely a green green land
of love was waiting –
a deep fresh spring
- despite those distant flames.
Kent Shire, writes from Austria
The first time I met Ian face to face was in St Michael and All Angel's Church in Haworth.  He was sitting with Catherine near the entrance with stacks of his books ready to sign copies for the public.  There was a concert there which he had set up for the Annual Brontë Weekend on Sunday, 5th June 2011.  Robin Terry had composed a song cycle of some of Ian's poetry, and he had devised a full musical programme, including other works.  The musicians were Robin Terry, Michael Templeton, Alan Graham and Laura Justice. 
I had been writing to Ian for five years before that.  It all began when I wrote to him regarding his article 'My Spirit's Sky' in the November 2004  Brontë Studies.  He pointed out in that article that Patrick  Brontë had witnessed Halley's Comet, and that Emily had written a poem called 'Stars'.  He also highlighted instances in  Brontë novels where characters look heaven-ward for spiritual strength, and it was always immediately given.  I wrote to him mentioning that astronomy, the first science, had its roots in religion.  He responded, informing me that the article was based on a talk he had given in the basement of Haworth Parsonage on May 24th 2002.  He added that some of the ideas were developed in his book Pilgrims from Loneliness… published by the Brontë Society in 2005.
Following that first exchange we corresponded back and forth after each of his following articles.  He was enthusiastic about his work and my interest in it, but we had never met – until the concert, when I introduced myself.  I was with my daughter, my son and his girlfriend, who are all interested in music.  We all loved the concert.  Ian and Catherine were delighted to meet us all and afterwards invited us to The Black Bull, where we spent a most enjoyable time drinking tea and chatting happily.   Catherine, he had mentioned in nearly all his letters, as his "other half" (he describes their first meeting in his Yorkshire Lives & Landscapes book).  I was deeply impressed when, together, they re-discovered George Sowden's Recollections of the  Brontës, which they went on to publish.  As a couple they seemed to do some amazing detective work!
Ian expressed interest in two Austrian composers, Haydn and Bruckner and I suggested that he should come on a visit and they we could visit their birthplaces.  He explained that travelling was difficult due to the illness of Catherine's mother.  I made more offers and in 2012 he finally accepted. 
Central to his visit was a walk called 'The Bruckner Way', which goes from Bruckner's birth-house to the St. Florian Monastery, where he lies in the crypt, just beneath the floor where the organ is situated.   On Ian's visit we had time to discuss the  Brontës, Bruckner and we also made a trip to the National Art Gallery in Vienna.  My wife's family has a large house on Lake Attersee and Ian enjoyed swimming very much, as well as trying out the rowing boat.  He'd brought good weather with him, and his visit was blue skies, warm weather and fall colours.  He often mentioned in his later letters how  much he had enjoyed his visit to us.  He also wrote a short story, based on images he had gathered, especially in the lake area.  We were delighted to see what impressions he'd acquired here. 
I read Ian one of my poems, called 'Souls' and he encouraged me to continue writing.  He was also very positive about so many things and had such a wide range of interests.  Ian's knowledge was deep in each area – he should have been a teacher or professor in my opinion.
We were curious that he hadn't brought a camera, but rather a sketch-book.  He said it helped him to remember the landscape better, to interact with the place.  He enjoyed sketching on our decking, in the sunshine.
Ian's e-book, which appeared in 2013, was the first book I'd ever read on an "E-reader".  I visited the local book-store to find out how to buy one and how they work!  I enjoyed the learning process, and found in the book the love story delightful, although it later moved into an encounter with terrorists, which was rather contemporary.  I enjoyed the ending, which showed human emotion can prove to be binding even during difficult political upheaval.
We were hoping that Ian would return to us for a second visit, and were so saddened to learn of his death.  I dropped everything to attend the funeral.  Catherine allowed me to stand next to her at the graveside.  I was beginning to feel he was a brother to me.  He wrote more often than anyone else I know.   I will miss our old-fashioned correspondence, and the chance of long walks and long talks.  Ian told me that he always thought of us when he listened to Bruckner.  We will certainly remember him.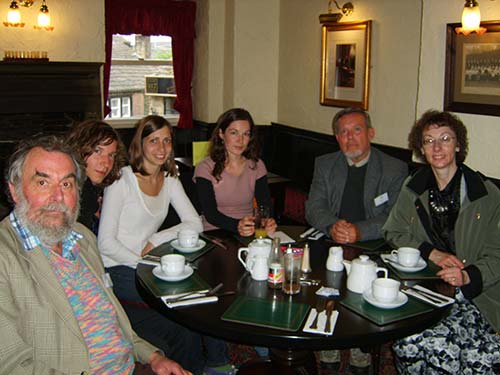 The Black Bull gathering, after the concert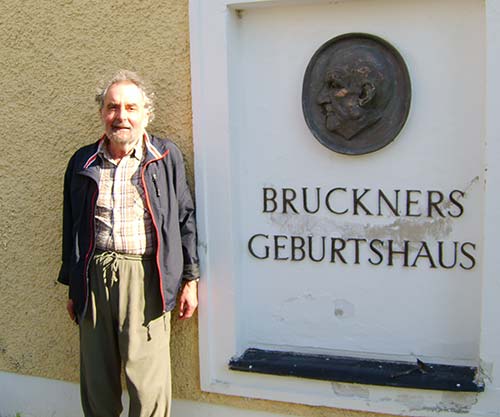 Ian at Bruckner's birthplace
From Isobel Stirk, March 2015
Ian's poems are truly inspirational and the reading of them fires our imagination and cheers our spirits.
Reading Ian's poetry can lighten the darkest day and so it was with Ian himself. Many times I have answered my telephone feeling rather glum and world weary and after a conversation with that dear man would, at the end of it, feel exhilarated and happy. He had a dry and mischievous sense of humour and I append below two poems which he wrote - addressed to me personally. They make me laugh and I will treasure them always.
In the merry month of May.This poem was sent to me after Ian and I had had a conversation bemoaning a rather unusual cold and wet May.
In the merry month of May, when the skies look cold and grey,
And the gallant Mrs Stirk wears three pullovers to work;
"It is wuthering and wild."
Cries the lonely orphaned child - "This enough  to give the shivers to the Reverend St. John Rivers."
But after May it's June that follows -
We'll all knit jackets for the swallows.
And then we'll sit by firelights' glow watching flakes of Lucy Snow,
Whilst Jack Frost doth have a ball upon the panes of Wildfell Hall.
Enough of sorrow - out of pity I think I'll end my little ditty.
It was with eager anticipation that I would often open envelopes addressed to me in Ian's distinctive handwriting. It was usual for us to exchange snippets from newspapers which we knew would be of interest to one another and of course there would always be some witty comment from Ian himself enclosed too. Ian loved music and there had been a classical concert in a nearby market town close to where I live. Seeing a report in my local newspaper about it, and knowing it would be of interest to Ian, I cut it out and posted it on to him.
A few days later the well-known handwriting appeared again through my letter box. Inside the envelope was another poem from Ian which I think you will agree needs no explanation from me!
Ian Emberson's reply to a chewed up letter from the beautiful Isobel Stirk
That sound - did something on the doormat land?
We rush and hope to see the much loved hand,
(As lovers oft embraced the long for missal
And placed sweet soft kisses on the sweet epistle).
Imagine then the sorrow which ensued -
Behold the cherished letter had been CHEWED!!
What mastiff villainous beyond belief
Despoiled it thus with ferocious teeth?
To think - the loving pen of Mrs Stirk
Should find fate frown upon her work,
Her thoughts of this and that and kindred matters
Reduced to rags and tags and sorry tatters.
But none the less we'll clasp it to our hearts
For all the fragmentary love its shade imparts,
And hope some letter of a future date
Will wriggle past the cruel fangs of fate.
Thank you Ian.
Sonnet on the gift of a dish cloth from the beautiful Mrs Graham to her humble servant Ian McDonald Emberson
Maidens of old oft sent a simple gift
-Token of love, of friendship and esteem,
Perhaps to heal once more some minor tift
Or fatten up a bond since grown lean;
But what is this wrapped by fair Brenda's hand ? -
According to the note it's sent with love,
Yet here no lord is leaping on the strand
No colley bird, no hen, no turtle dove;
I tear the paper open - and behold
A cloth of purest white awaits my gaze,
Ready to wipe the grease from pans untold
And from the cups each blemish to erase:
And I will gladly do my daily grind
With thoughts of that fair giver in my mind.


Brenda Graham writes a few words about the dishcloth
Ian liked to wash up when he came to visit us here in Edinburgh even though I said the dishwasher washers up. But on reflection it would have been a way of helping out during his stay and he could gaze out of the kitchen window at the old holly tree he once sketched. I like to crochet and at Christmas time like to make some dishcloths and send them out to folk and one particular year I included Ian because I knew he would appreciate the gift even though very humble at that. He always called me 'the beautiful Mrs Graham' and told me of the painting of another beautiful Mrs Graham hanging in the National Gallery of Scotland. Ian and my husband Alan got on very well together sharing their love of music especially.
Added: Wednesday, 27 May 2015
From Wendy Louise Bardsley
Poet - Novelist - Anthologist and more, writes
I am very sad to learn of Ian's death. His poetry is quite distinctive and moving, likewise his art which I have constantly bought and sent around the world in the form of his postcard images. It will live on. There is something particularly inspiring about his work and I've been proud to have it feature in my anthologies. I am sure he'll be remembered with fondness by all who knew him and neither will his work be forgotten.
I have loved his textile painting of 'Windmill in the Sunset', and shall remember him always as the runner in the middle.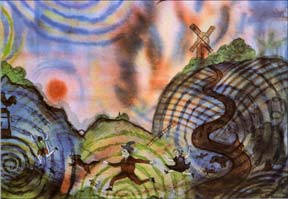 Windmill in the sunset
He always thought it amusing, but I did feel he caught me absolutely in the beautiful painting 'Crimsworth Dean'.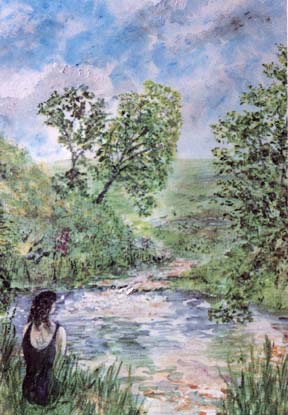 Crimsworth Dean
His death is a great loss to the poetry world and most of all, I am sure, to Catherine.